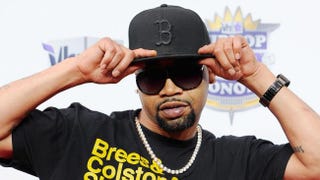 What was I banging this week? Lots and lots of Future, a little new joint from Juvenile, and a heaping dose of the sounds of Houston.
1) The Midi Mafia - Sing for Me feat Elijah Blake, Rick Ross, and Game
Cam'ron did sampled Rose Royce's "I'm Going Down" first with "Oh Boy," but it holds up in this collabo too.
2) A-Trak - Muscle feat. Juvenile
This A-Trak/Juvenile collaboration bangs, and how can you argue with Juvie shouting out Afflak at the beginning?
3) Young Scooter - Disfunction feat. Future, Juicy J, and Young Thug
First of all, almost every song I hear from Future has some kind of weird, eery, almost discordant beat that I can't get enough of. Second of all, just about everyone in rap that I can't get enough of is on this track.
4) Various artists - Houston Rap tape
Finally, the Houston Rap tap is a nearly seven-hour amalgam of some of Htown's finest. It took me two days to get through the whole thing, but it was worth it.